Mar. 27, 2020 Voluntary Sagami students' voices.*
Sagami Women's University students, who gratuated this March, gave us comments about their activities with our NGO. We'd like to express our thanks to their support.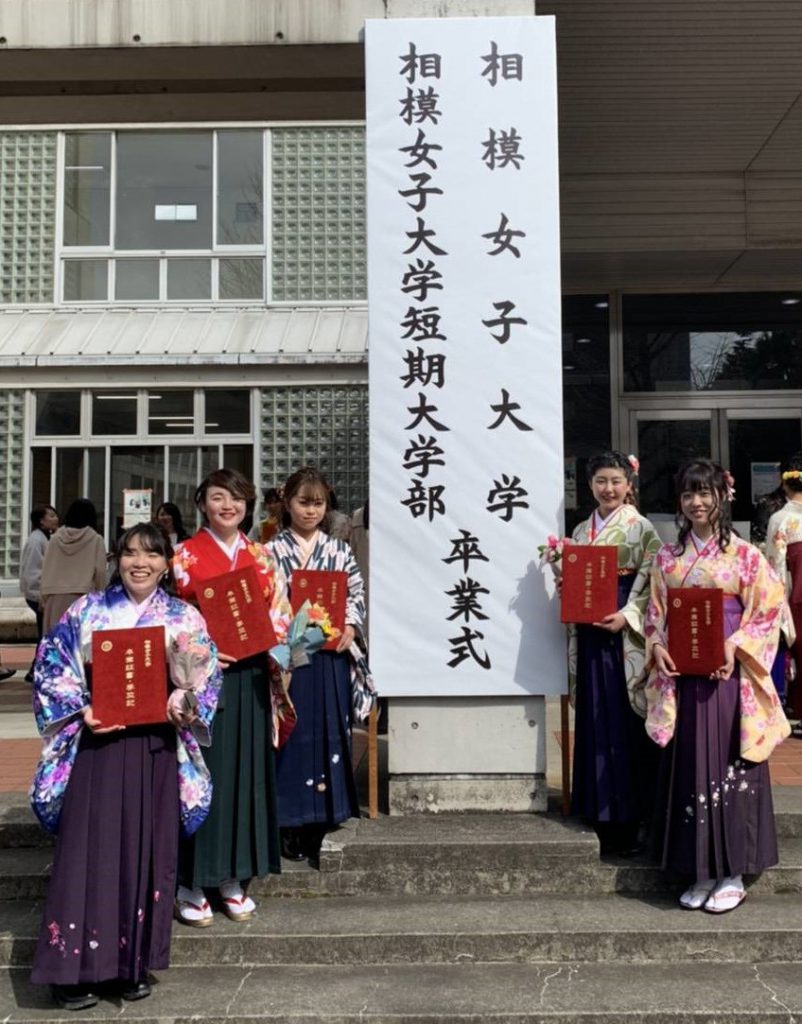 Sagami Women's University group at the graduation.
(From left) Sugihara, Shimanuki,
Shinohara, Yoshihara, & Sugiyama
(Click to enlarge)
Shimanuki
This is the first time I have continued to do something for four years except school club activities. Wheelchair activity, both failures in the beginning and happy moments on the way, is the deepest part in my college life. Through this activity, I had opportunities to visit a company and to get contact with people outside of university. I was lucky to have got incolved in the project of sending wheelchairs to overseas children. I hope to join this activity again as a working adult. I'll try. Thank yopu very much.
Shinohara
I have joined this activity since I entered university. Through this activity I've learned the present state of children's wheelchairs. I also learned lots of things from casual conversations with monthly meeting participants and they have broaden my horizon. I would not have experinced such things without this activity. I was immature at first but I feel I grew up thanks to people around me. I'd like to thank everyone who have helped me..
Sugihara
I have got involved in this project for two years. I knew nothing about children's wheelchairs at first, but I got deeper knowledge as I joined monthly meetings. I learned things I could never get in the ordinary college life. I also learned a lot to see our cleaned, refurbished, and packed wheelchairs actually used by overseas children. I'd like to join this activity after graduation. Thank you very much.
Sugiyama
I have joined this activity since I entered university. I feel grateful I have learned a lot from this activity. It was a precious experience for me. I also feel thankful to have got involved with this activity for four years and got acquainted with many people. Thank you very much. I'd like to join you after I graduate.
Yoshihara
I have learned many things from this activity and I feel I could grow up most in it. At first I was just a member of our group, but gradually I learned things needed for working in the society like cooperation with outside people and exchange with overseas partners. I have come to try to connect this activity with my job in the future. Meeting this activity and other voluntary members is a treasure in my college life. From now on I'd like to make efforts with the memories of this great experience. Thank you very much. I wish you all the best and health.