Information from NGO
(Click the articles with * for details)

Topics
Our NGO gets used wheelchairs from special schools in the Kanto district, refurbishes them and sends them to overseas children. We sometimes get electric ones among the collected wheelchairs, but we don't send them abroad because it is difficult for our partners overseas, which receive those used wheelchairs, to fix electric ones or to get spare parts to fix them.
However, electric wheelchairs are not only expensive but also high-performance, and overseas children are sure to be happy to use them if they can. We looked for organizations which can send electric wheelchairs abroad and have found a perfect NGO, SAKURA WHEELCHAIR PROJECT. MR. Sho Saito, president of Saito Factory, is the chief director of this project.
 
SAKURA PROJECT has been sending electric wheelchairs to mostly Pakistan, 630 wheelchairs in total. Mr. Saito himself has visited Pakistan fifteen times to hand down his techniques. Recently the project has widened the area to Nepal, Mongolia, and Costa Rica. Mr. Saito is such an admirable man.
As for electric wheelchairs, we intend to leave them to Saito Factory and ask them to send them to foreign countries.
April, 2019 Hirokazu Morita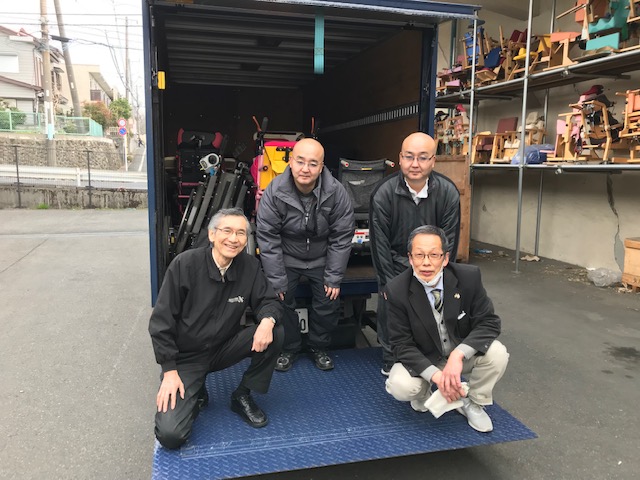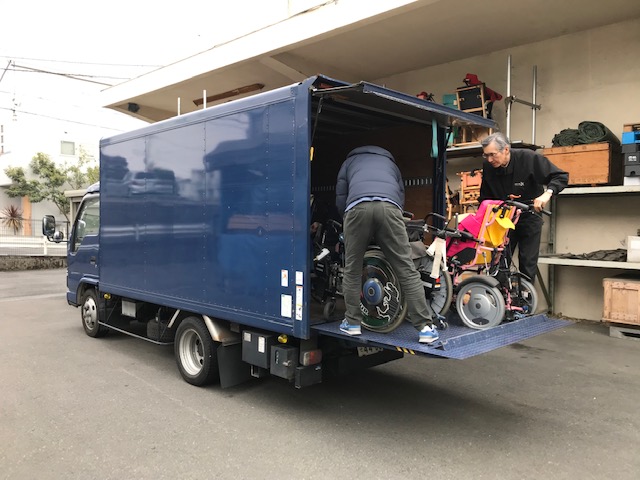 Mr. Saito, the Tanabes(twins), who came to help us, and Morita. They loaded 14 electric wheelchairs onto their truck, leaving no room. They carry them to Ibaragi prefecture and refurbish them there.