We made a visit to APL Yokohama Container Terminal for the second time. The members were Sagami Women's University students, fifteen in total, and two emplyees of NTS Corporations, to which we entrust our export business, and one of our directors.
Like in July, Mr. Uchida, Japan representative of APL, and Mr. Shirai, who is in charge of the Terminal, explained to us about American President Lines(APL), the present state of shipping business, and what it's like to ship after the container is transported into the terminal. After that, we went up to the roof of the office and listened to the explanation about the cargo handling work of CMA CGM TIGRIS, which was at the terminal on that day, and the operation of the whole terminal. The full length of the ship is 300 meters and its maximum loading capacity is equal to 10,622 twenty-foot containers.This is the biggest container ship in APL and it was handling bananas from South and Central America.
Mr. Takeshi Higashino, a former employee of APL, visited the Terminal to fit our visit. He is the father of Mr. Taro Higashino, a sales director of APL, and also the grandfather of Momoka Higashino, Sagami Women's University student , who was a member of our visiting group this time. Three generations of a family got together at APL and seemed to be enjoying this opportunity.
Visiting the Terminal was the first experience for the university students, and it was also a rare chance for the employees of NTS. It happened to be a good opportunity for three parties, the owner of goods(our NPO), the export company, and the transport company, to meet at the same place.
We'd like to express our gratitude to the APL staff for receiving us twice with great hospitality.
Thank you very much.
September 19, 2019 Secretariat

<Comments of the visiting students>
Until this visit, I didn't even know the term 'container terminal' or couldn't make a picture of our refurbished wheelchairs being transported. Now that I visited the real terminal, I have a clear image of transport.(Sugihara:senior)
I was surprised to learn that 90% of the world's transport is done by ship. I didn't know that Japan is a bit behind in shipping record though our rank in GPO is third in the world. Now I fully understand the fact that without container ships we could not send our wheelchairs to overseas children. I'm glad that visiting the container terminal gave me such important knowledge and changed my view.
(Ishii:junior)
I learned about the procedure of distribution and how wheelchairs are transported. I also got some knowledge about the shipping industry, which I hadn't even noticed. It was a valuable experience for me. I'd like to make use of this visit in our activity from now on.
(Omura:sophomore)
My knowledge about wheelchair activity was just refurbish and pack them until now, but through the visit to the container terminal I learned about after packing the wheelchairs. For example, containers do not always go straight to the destination, but stop off at another country and transship cargo there. In addition to learning new things, watching the APL staff working gave me a clear image of our activity. Now I have a strong intention to keep on working.
(Sekikawa:freshman)
<Visiting members>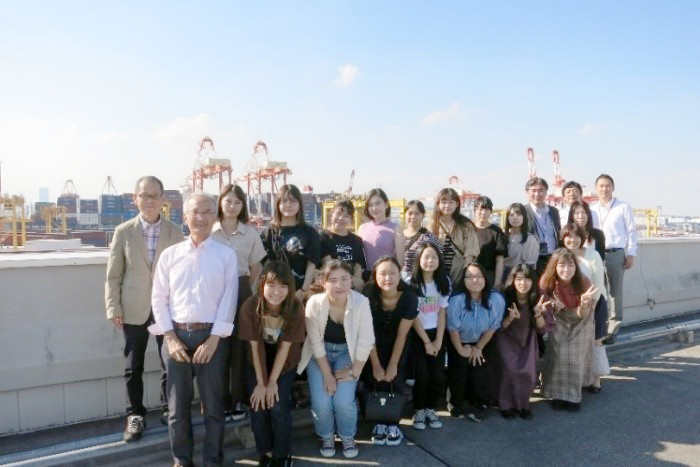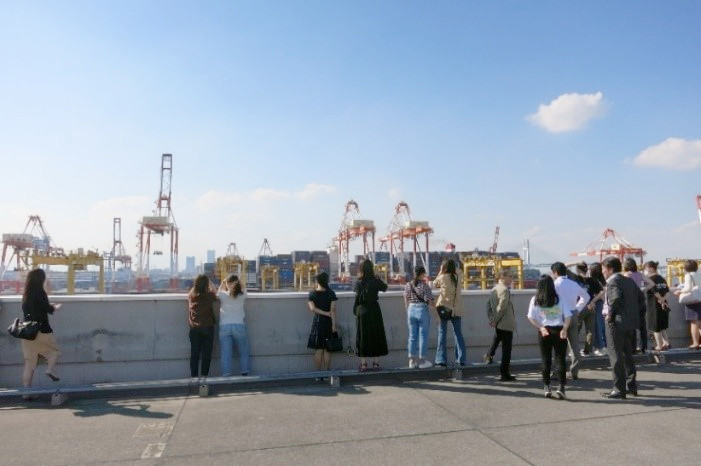 (Left)With the container ship handling cargo.
(Right)Listening to the explanation.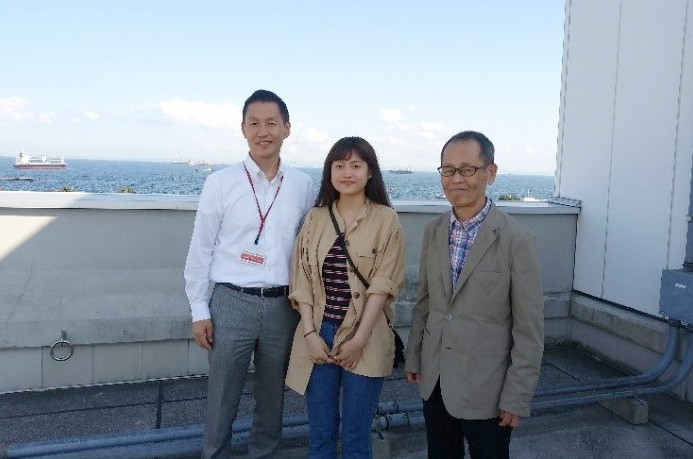 (Left)Plenty of containers arranged in order.
(Right)Higashino family's three generations.