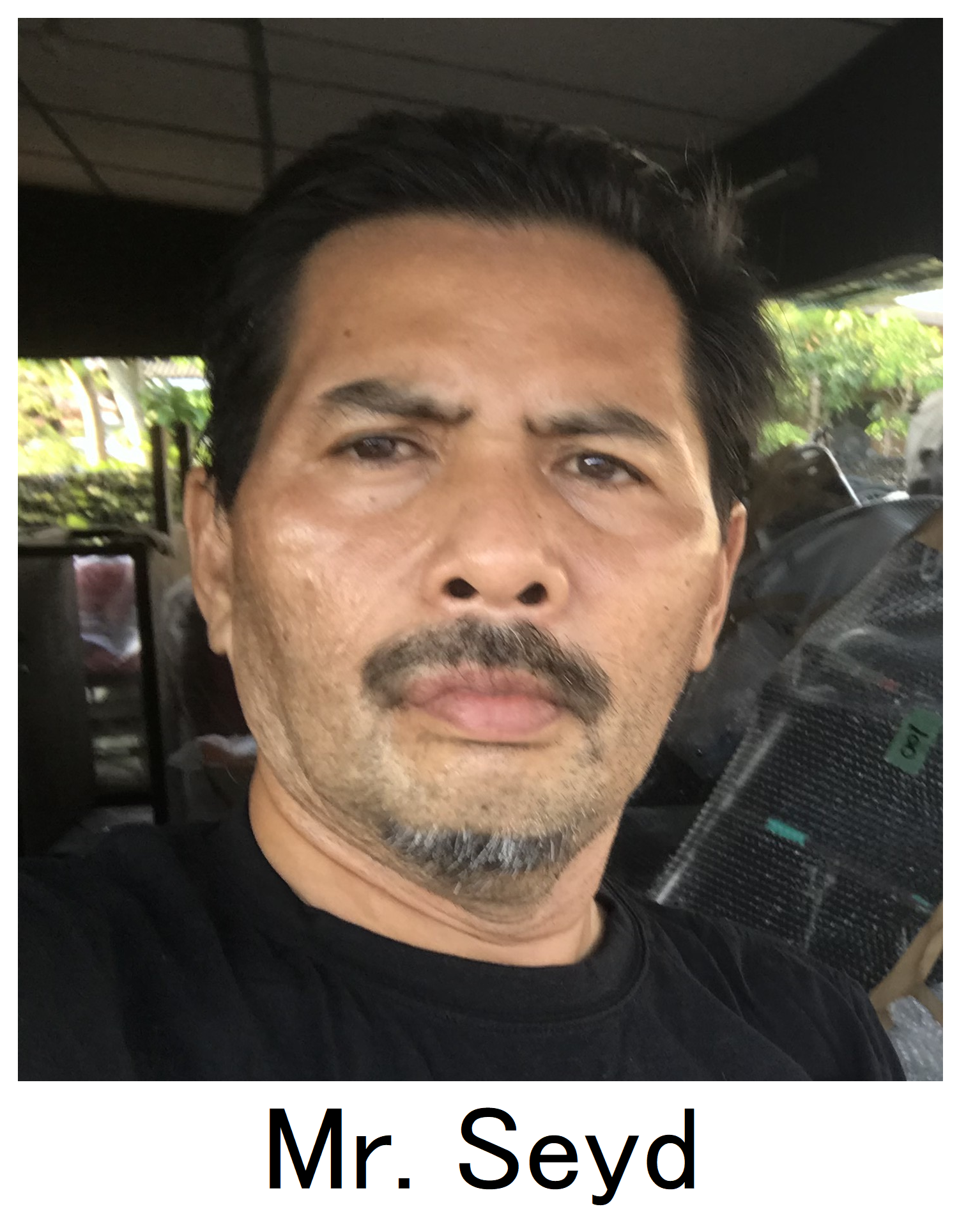 The ship loading 90 wheelchairs left Tokyo port early in the morning of August 26, 2021, and arrived at Port Kelang on September 6. Then our longtime partner in Malaysia, Mr. Syed of Aleps Dream Factory(ADF), let us know that he would get wheelchairs from the container at the port on the afternoon of September 11.


We sent wheelchairs undone this time as Mr. Syed had asked us to by saying that it's possible for him to refurbish wheelchairs at his factory though it's not possible to go around under the corona crisis. Now he's starting refurbishing work and he's going to deliver them to children after he has finished the work. I'd like him to spend enough time working and make every wheelchair complete.
Mr. Syed came to Japan in 1988 as an overseas student of Look East Policy, the modernization policy promoted by the ex-prime minister Mahathir in Malaysia, which encouraged young people to learn the groupism and work ethics of Japan as it had made a high economic growth after World War Ⅱ. His intention was to introduce Japanese discipline and loyalty to the workplace and cooperation between unions to companies in Malaysia. Look East Policy includes strengthening of workers' skills with the help of Japanese companies and sending students to Japan, and lots of students have come to study in Japanese colleges every year.(The number of students coming to Japan is said to be decreasing recently).
It was 1988 that Mr. Syed came to Japan through Look East Policy. He learned Japanese for one year first. Next he was admitted to the third year class of NATIONAL INSTITUTE of TECHNOLOGY(KOSEN), NIIHAMA COLLEGE in Ehime prefecture to learn mechanical engineering and graduated in 1992. After graduation, he returned to his country and entered a subsidiary of Sumitomo Metal Mining Co., Ltd. in Malaysia, engaged in manufacturing microchips.
Then he started a regenerating diesel engine business with his friend in 1997 and also made a success in running a restaurant.(Unfortunately the restaurant is now closed due to the corona crisis.)
Our NGO started donating wheelchairs to children in Malaysia with the cooperation of Alumni Look East Policy Society(ALEPS). Mr. Syed joined this activity and began working in earnest as the president of ALEPS(2011~2015).
He has launched a factory in which he can refurbish wheelchairs by himself, got necessary machines ready on his own, and made efforts to deliver wheelchairs across the country if asked. He has received more than 1,500 wheelchairs for 15 years from our NGO.
Mr. Syed has noticed the importance of children's wheelchairs and has grown to be able to produce wheelchairs in his own factory. I am really impressed by his true passion.
September 17,2021 Hirokazu Morita
〇 Wheelchairs to the warehouse.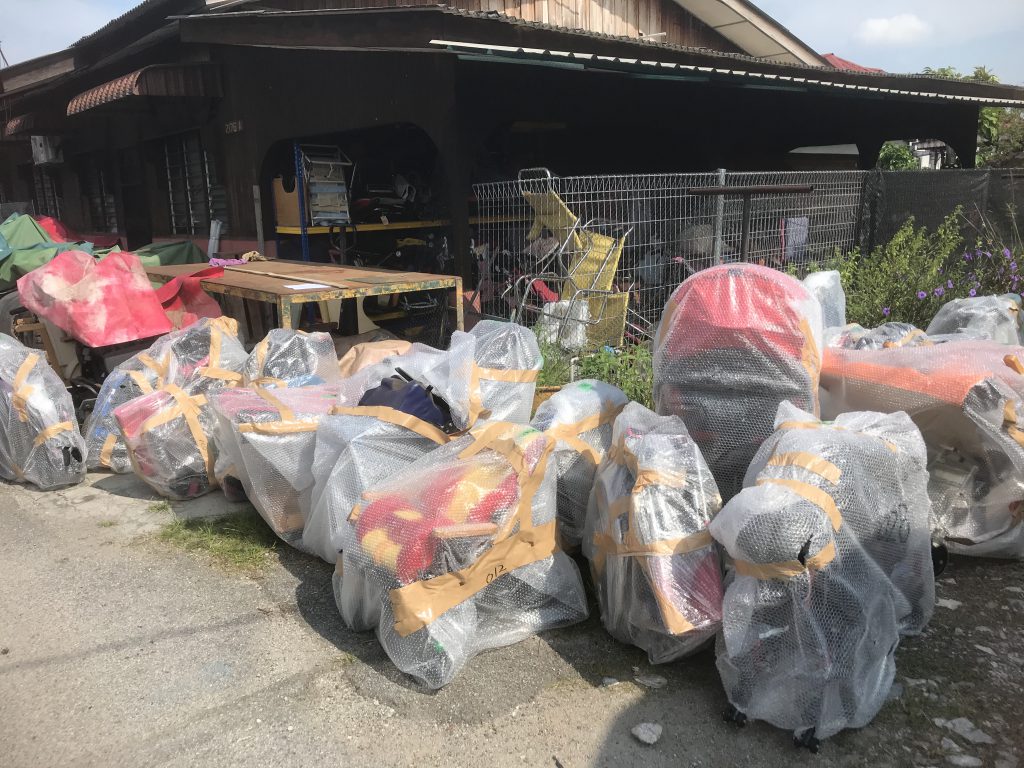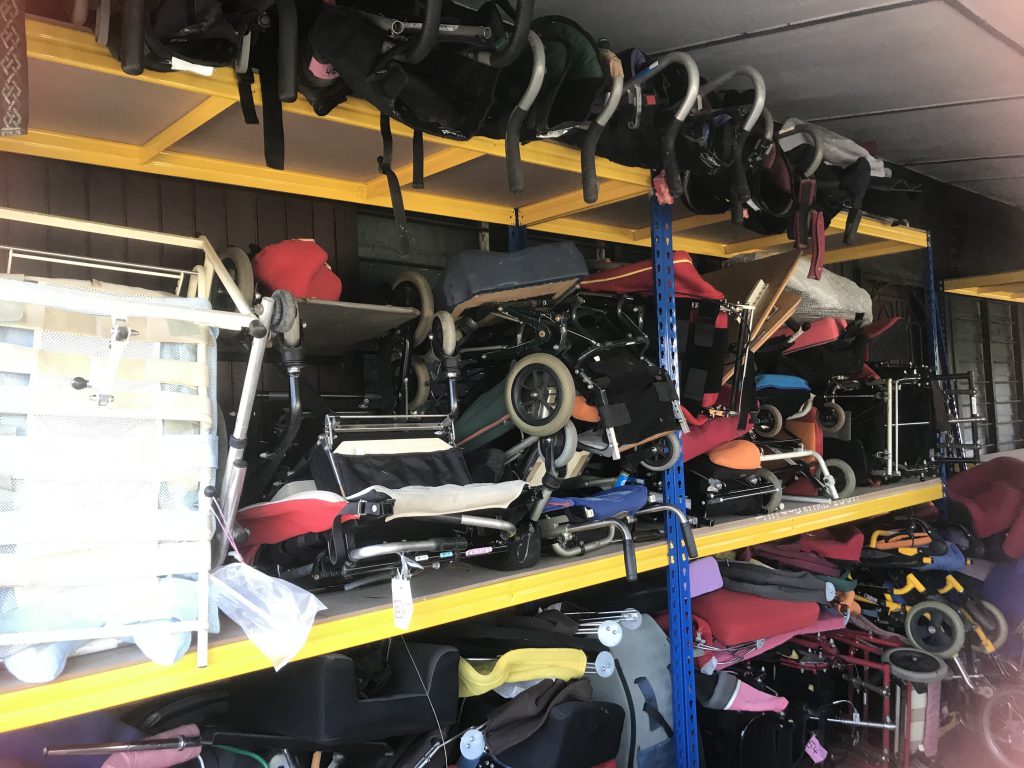 Mr. Syed starts refurbishing wheelchairs and then delivers them to children.