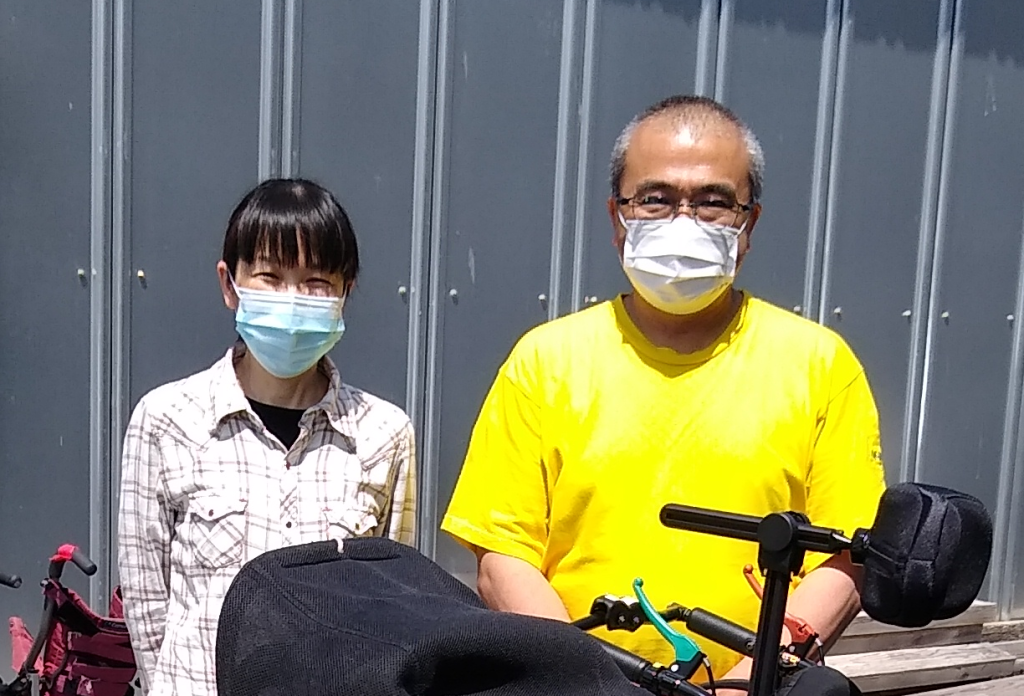 During the meeting on April 10, Mr. and Mrs. Inagaki from SOU Company visited us to deliver various types of wheelchairs. SOU Company Ltd. provides home care, in-home support and child day care services in Adachi, Tokyo. Mr. Inagaki brings us wheelchairs which are not used anymore in such activities.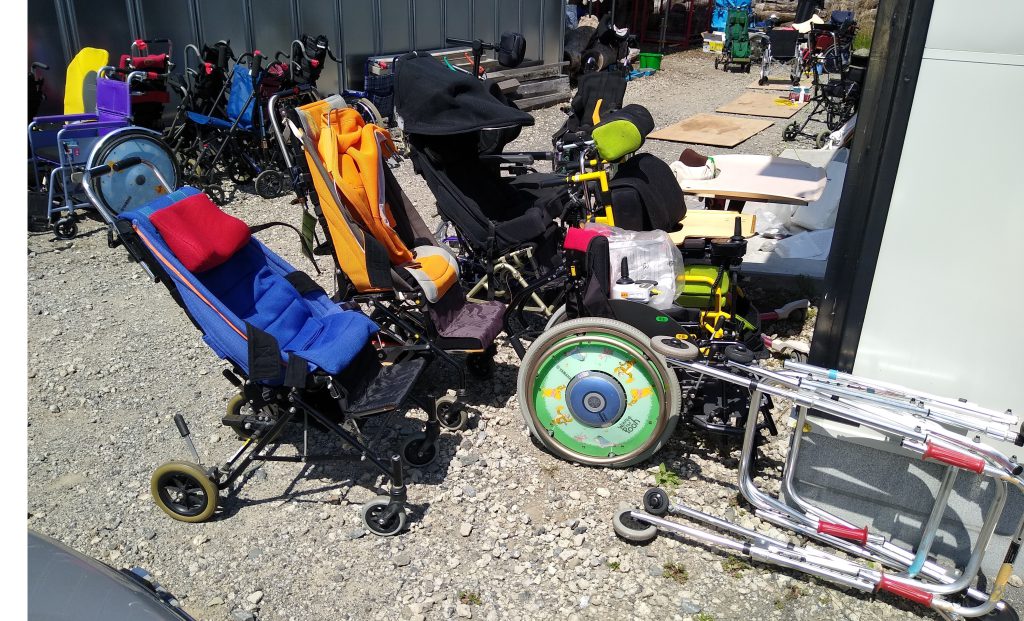 The photo shows wheelchairs Mr. Inagaki just brought us:(from left) buggy types, a wheelchair with black sunshade, electric ones, and a stand-up trainer at the back. Pipe-shaped ones in front are walkers.
Mr. Inagaki, we really appreciate your coming and offering these wheelchairs.
The wheelchair with black sunshade looked almost new, so we asked Mr. Inagaki how it's been used. Now let us share with everyone the story behind the wheelchair. A boy currently in junior high school collapsed due to vascular disorder of the brain when he was a sixth grader. He became severely disabled and bedridden. He had to cut off the trachea and use gastric tube. His voice was lost. The boy was hospitalized for nearly two years including the period of rehabilitation. Thanks to the rehabilitation at the hospital, the tracheal cannula(Tube inserted into the trachea through the incision after tracheostomy) was removed and he got to keep seated with position holding device. His parents decided to take him home as his condition became stable and they made a wheelchair for the living at home. This is the wheelchair for severe disability, which Mr. Inagaki brought us.
To the parents' surprise, a big change occurred when the boy returned home. First he began to eat by himself. No tracheotomy nor gastrostomy needed anymore. He recovered his vigor! As he used to like exercise, he began to try sports like boccia and hand soccer, as well as training to walk. His voice came back and recovered enough to make other people laugh by joking. Now he writes letters and does calculations. Half a year has passed since then, and he has outgrown the first wheelchair.
The parents are ordering a self-propelled wheelchair fit for his body. This is how their first wheelchair has come to our NGO.
We've received 'almost new' wheelchairs like theirs in the past too, but in most cases the reason was that the child who was to use the wheelchair passed away before using it. Recalling the wheelchair with their deceased child, parents want it to be used by overseas children, and naturally we'd like to meet their desire.
The case this time, however, was quite opposite. We're delighted to receive such a wheelchair. We'd like to send this wheelchair to overseas children as soon as possible.
April 15, 2022  Hirokazu Morita