Our NGO, together with four other groups below, has sent 140 wheelchairs, 115 for grown-ups and 25 for children, to Mongolia. It's Mr. Saito, NPO Sakura Wheelchair Project, who set up this Mongolia project. The five organizations have collaborated separately with each other so far, but this is the first time all five of us have worked together to send wheelchairs abroad.
 NPO Sakura Wheelchair Project(Representative: Mr. Sho Saito)、
 CIL-Kannabe, Fukuyama City(Representative: Mr. Katsura)
 Wheelchairs of Hope(Chairman: Mr. Masafumi Tani)、
 NPO "Go!Fly!Wheelchairs"(Representative: Ms. Michiyo Yoshida)
 Our NGO (Chairman: Hirokazu Morita)
"Sakura wheelchair Project" in Tokyo and "CIL Kannabe" in Fukuyama City provided 75 wheelchairs for grown-ups jointly, "Wheelchairs of Hope" in Tokyo 30 for grown-ups, and "Go!Fly!Wheelchairs" in Hokkaidou 10 for grown-ups. As for our NGO, we offered 25 for children.
Around twelve midnight on August 4, the ship loaded with wheelchairs left Kobe port for Tianjin Port, China. From Tianjin, the wheelchairs are carried to their final destination, Ulaanbaatar by truck. It will take about a month on a normal condition, but it might take longer as there're uneasy aspects nowadays.
It's my great joy that we can donate so many wheelchairs to Mongolia along with other groups. I hope the wheelchairs will be delivered to Mongolian disabled people soon.
August 4, 2022 President Hirokazu Morita
〇The wheelchairs from our NGO are three types below.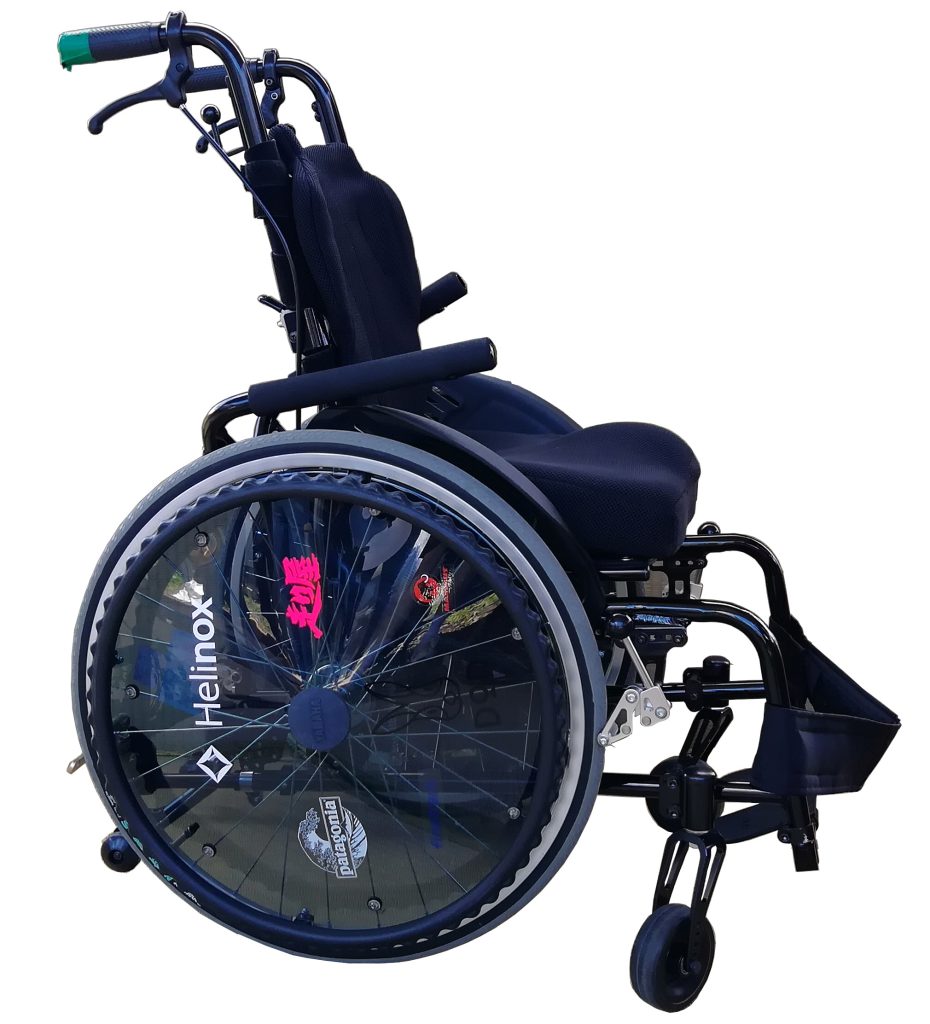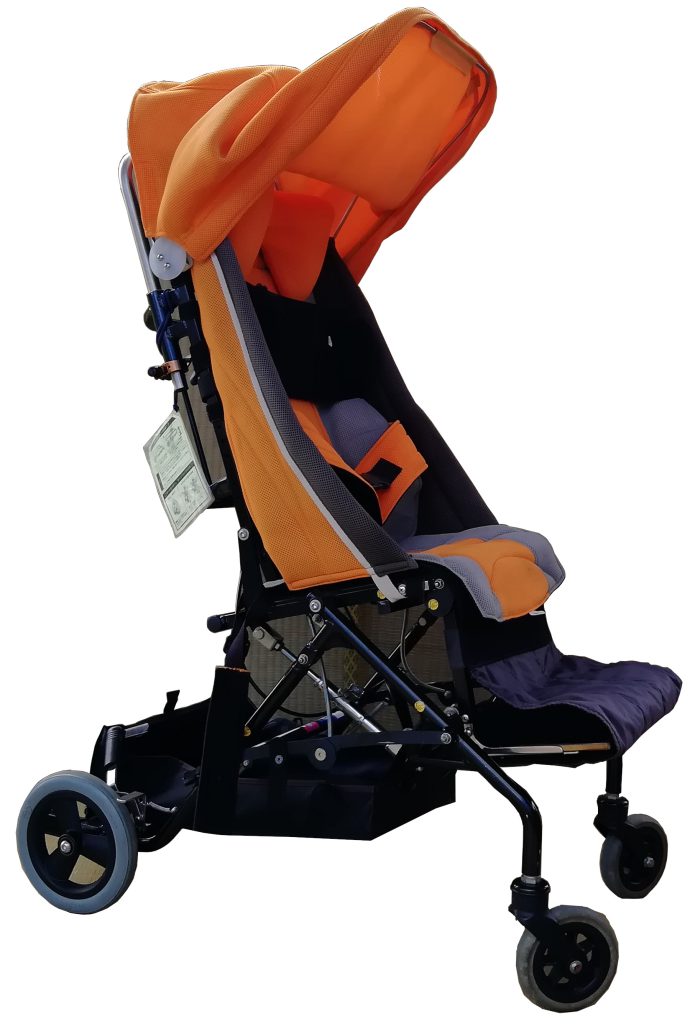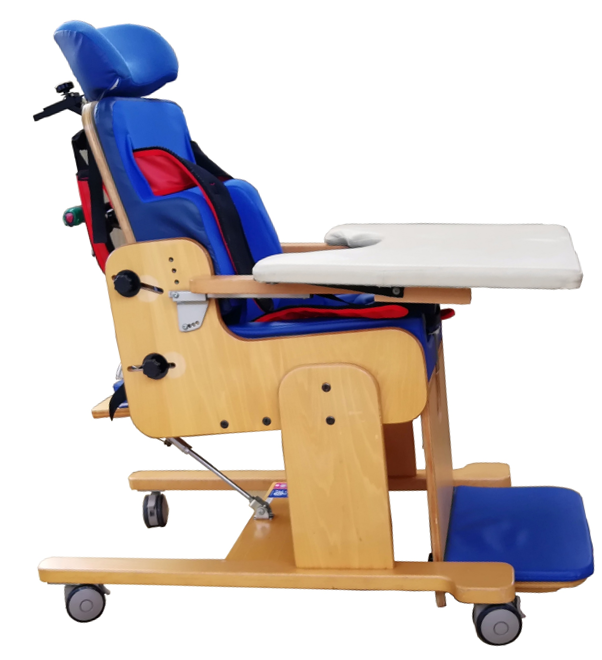 Normal wheelchair(18 units)  Buggy-type(3 units)    Sitting aid(4 units)
These wheelchairs were donated by Fuchu Keyakinomori Gakuen, KawashimaHibarigaoka Special School, Metropolitan Koumei Gakuen, Saitama Municipal Himawari Special School, and other special schools and individual persons.

〇Loading into the container.
140 wheelchairs were loaded into the 20-foot container at Fukuyama City, Hiroshima.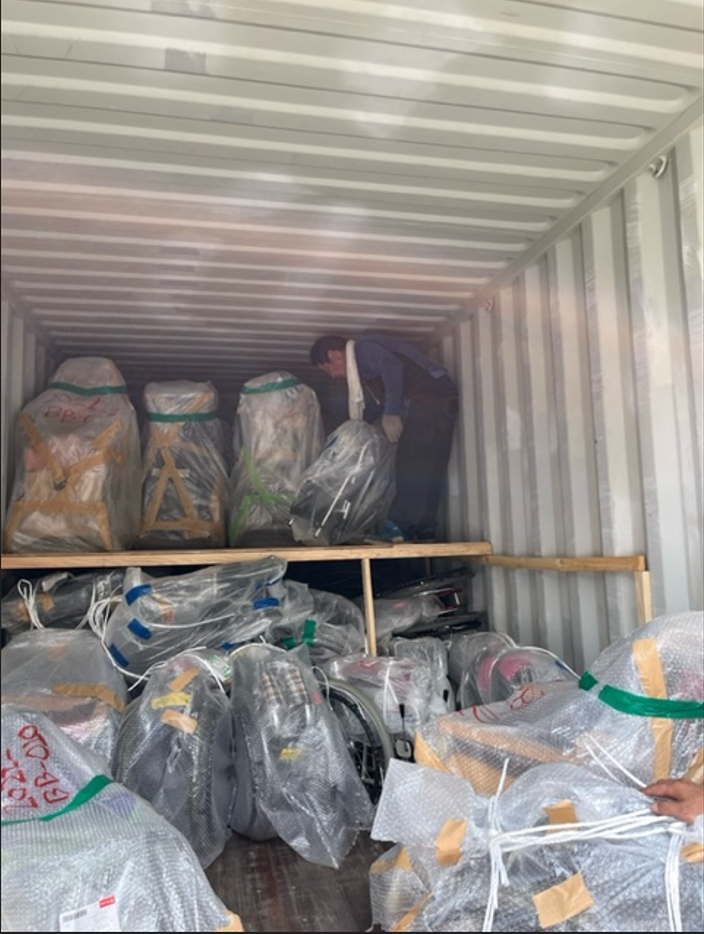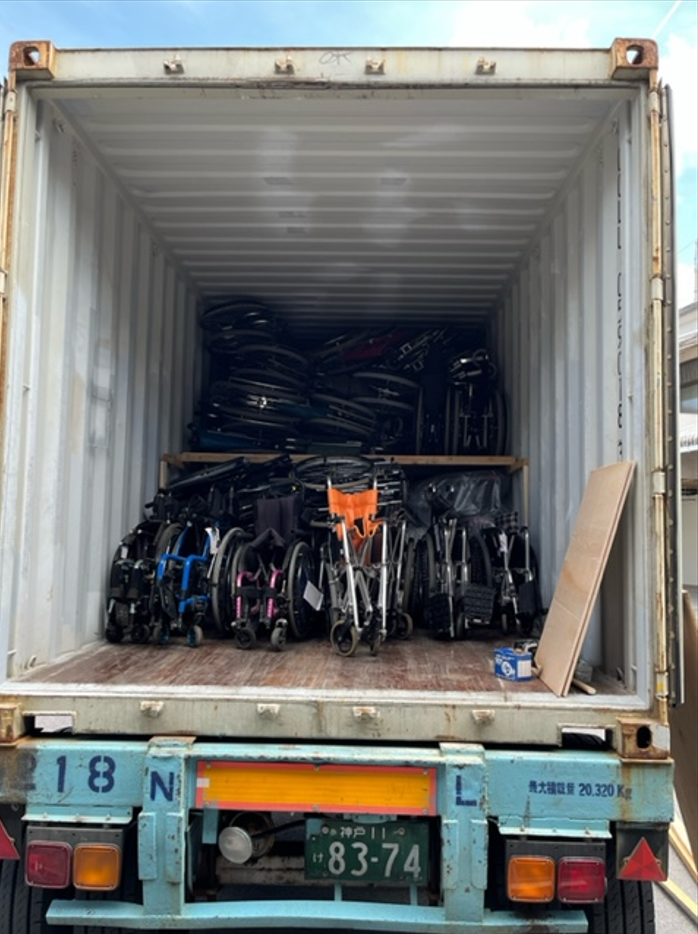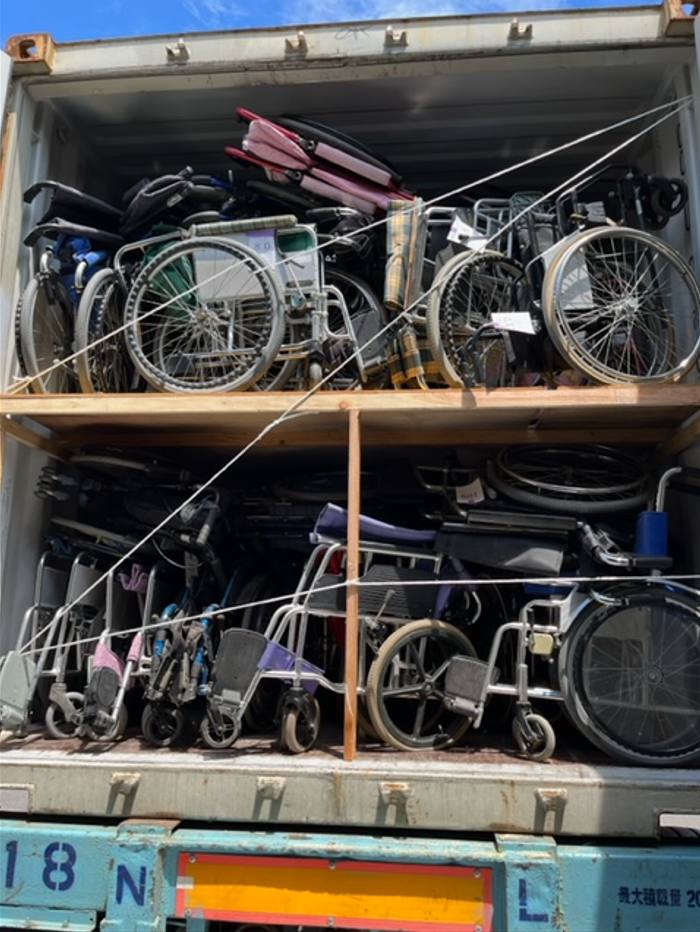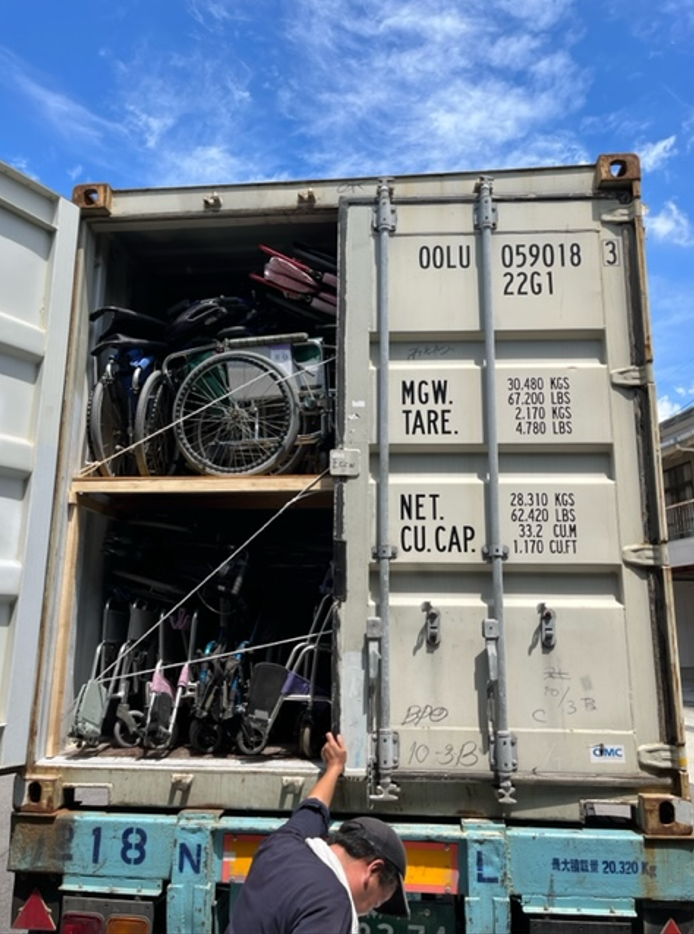 (Click the photos to enlarge.)

〇About the recipient organization in Mongolia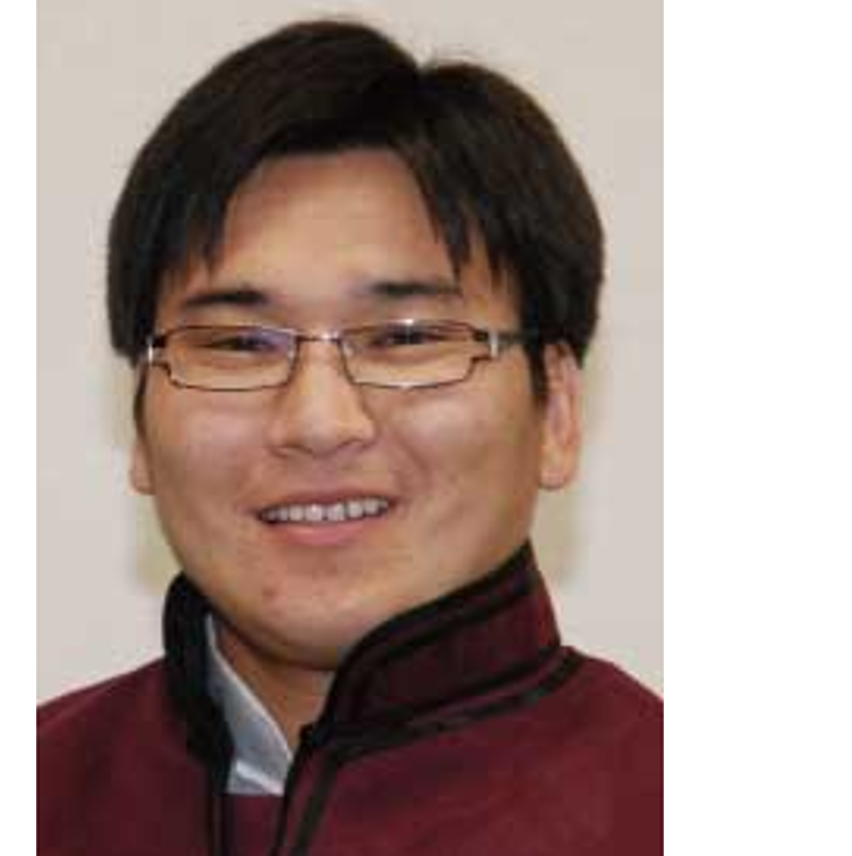 The recipient in Mongolia is Independent Living Center
(Rep: Mr. Undrakhbayar Chuluundavaa:photo)
"Independent Living Center" is the first Center for Independent Living(CIL) in Mongolia, founded in 2010 by Mr.Undrakhbayar, who participated in Duskin Asia-Pacific Training for Disabled Leaders in 2008. 11 people are working as office staff and 95 people are enrolled in the center. Mongolia has 7 CILs and UB City has 3.
They carry out various kinds of activities such as advocacy operations(policy proposal to the government, campaigns for different issues, public relations, etc.), barrier-free campaign, independent living campaign, practicing independent living programs, promoting assistance services, appealing of participation in society, peer-counselling, and promoting reform in social awareness. There are helpers in UB City and CILs in two districts.(From "Disability-related information by country Mongolia:November 2017 JICA")