Following the Tokyo Olympics in August, the Paralympic Games were held from August 24th to September 5th.There were 161 countries / regions and refugee teams participating in the Paralympics, and among them is a team from Vietnam, where we have been sending many wheelchairs.
We received an unexpected request from the team through Mr. Giang Nguyen, one of the Vietnamese volunteers of our NGO and a core member of wheelchair maintenance. The request was to donate 5 wheelchairs to Vietnamese para-athletes.
Ms. Binh Nguyen, a volunteer supporting the Vietnamese Paralympic athletes told us that since Japanese-made wheelchairs are of high quality, they would be very happy if they could get a Japanese-made wheelchair for free at this opportunity. I agreed with her request.
Then, Ms. Binh, led by Mr. Giang, came to our warehouse in Haijima to get wheelchairs on August 29. I was a bit worried that our wheelchairs are mainly for children and wondered if they are fit for the Paralympians. Luckily there were some for grownups, and five wheelchairs we offered were all usable for them.
The Vietnamese team left Narita airport for home with their new wheelchairs on September 6. We hear that the athletes were delighted to get new wheelchairs. We also knew that they got a silver medal in the Paralympics. Congratulations!
Since the team brought in new wheelchairs as well as their own, they were to pay extra charge for overweight. So we wrote a letter certifying the wheelchairs as gifts from our NGO. They submitted it at the airport and got exemption from extra charge as a special case. I'd like to express my thanks to Japan Airline Co., Ltd. for their consideration.
I feel so happy that the Vietnamese para-athletes are pleased to use our wheelchairs.
September 6, 2021 Hirokazu Morita
‹‹ Photos from the Vietnamese team ››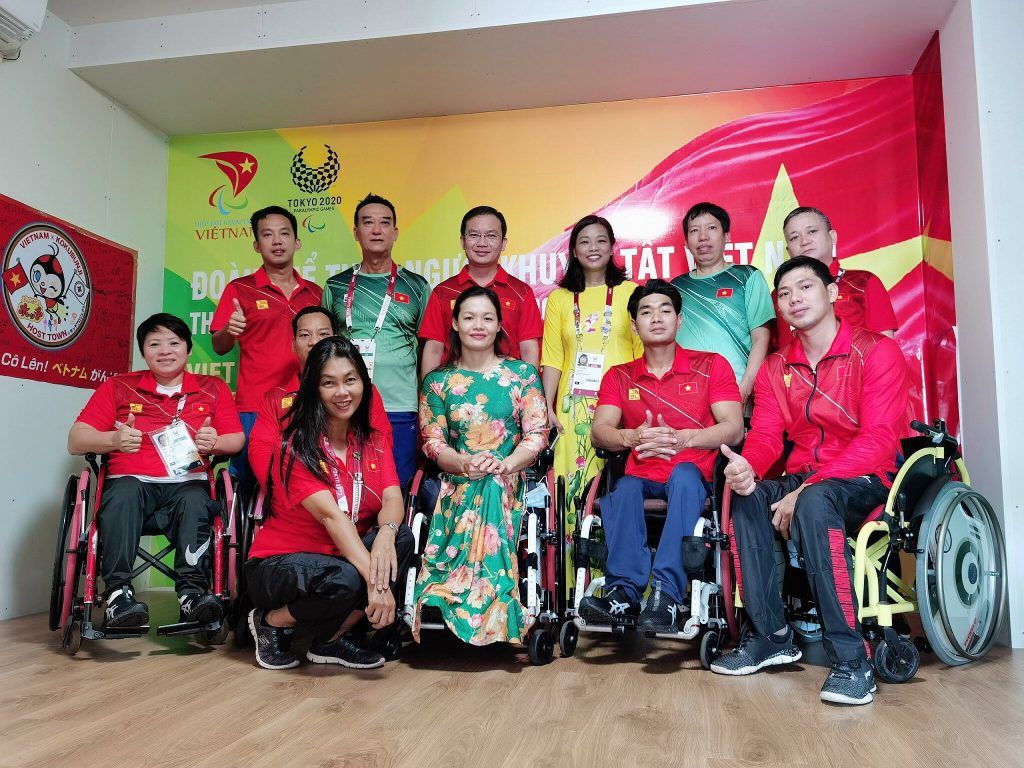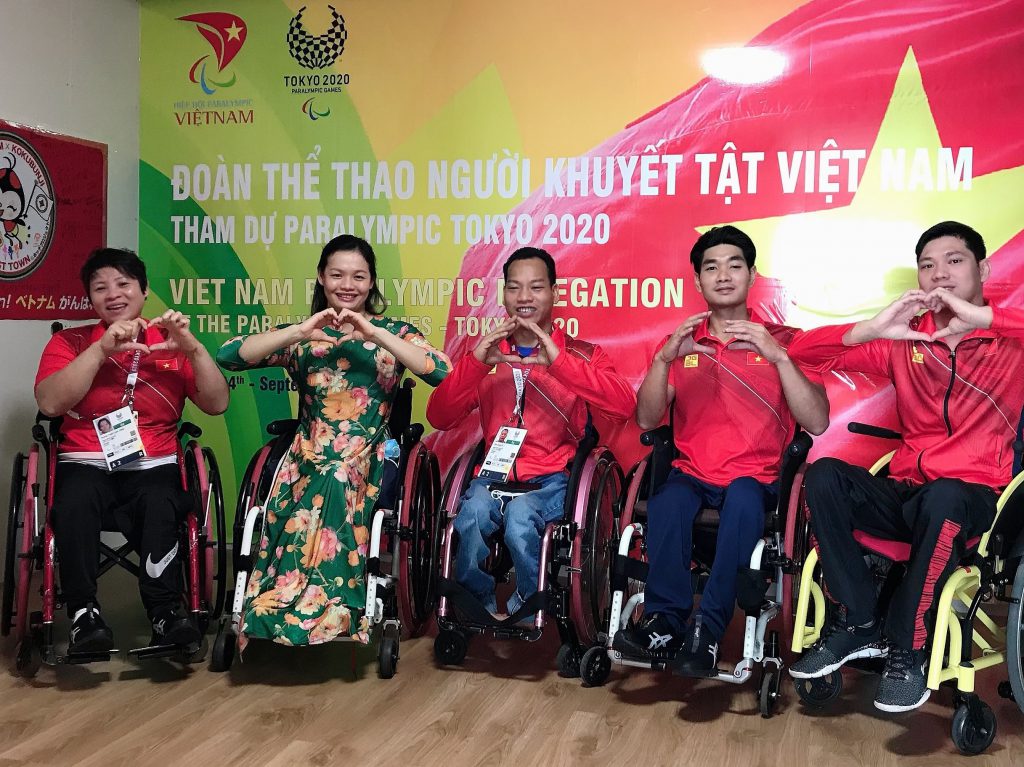 (Left) Vietnamese athletes and volunteers at the athlete village. The woman in golden ao dai, the third from the right in the back row, is Ms. Binh.
(Right) The Vietnamese Paralympians. The man in the center is Mr. Van Cong Le, who won a silver medal in the power lifting 49kg class(motor dysfunction). Congratulations, Mr. Cong!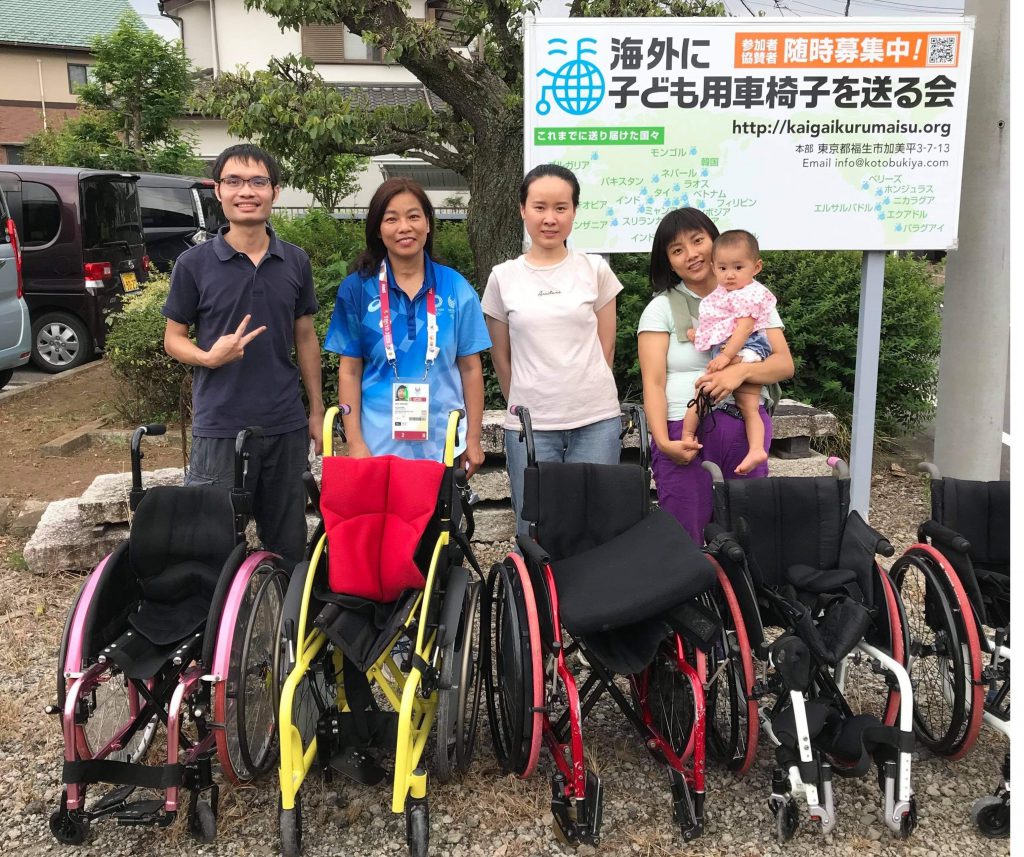 At our warehouse in Haijima. Our volunteer, Giang, Paralympic supporter, Binh, Giang's friend, Hoa Pham, Binh's daughter, Mai Anh(from left to right).



On their new wheelchairs, just before leaving the Narita airport.