Our NGO sent seven hundred seventy-nine wheelchairs to eight countries last year. It's all thanks to our supporters and people who take part in our activities that we made it.
From the very beginning, we promoted our work from different perspectives like how many wheelchairs we should collect, how many people would be able to join the refurbishing work, and whether we would have enough funds.
It takes lots of time and effort to deliver wheelchairs abroad, and we don't feel fully relieved until they get to their destination. It's not only our members in Japan but also overseas partners who try hard to get all this work through. I'd like to continue to do this activity with the help of these people.
My wish this year is to keep sending wheelchairs to overseas children with the help of all of you.
Wishing everyone a happy new year.

January,2019 Hirokazu Morita
- – - – - – - – - – - – - – - – - – - – - – - – - – - – - – - – - – - – - – - – -
〇 Ambassador of Ethiopia experienced KIMONO
On December 25, I invited Mr. CHAM Ugala Uriat, Ambassador of Ethiopia, to my costume store.
Mr. and Mrs. ambassador came with their children, the minister and the secretary. Mr. Abeba, a member of our NPO, played an important role as an interpreter.
Preparing six sets of kimono was not an easy task, but all the guests were delighted to have this opportunity and they went to a Japanese restaurant for lunch with their kimono on.
The ambassador made a request to continue sending wheelchairs to Ethiopia, naming Gambera, his hometown, as a place where the wheelchairs would be sent.
To my joy, everything went on in a friendly atmosphere. I hope that today's kimono experience serves as a nice remembrance of their stay in Japan.

December, 2018 Hirokazu Morita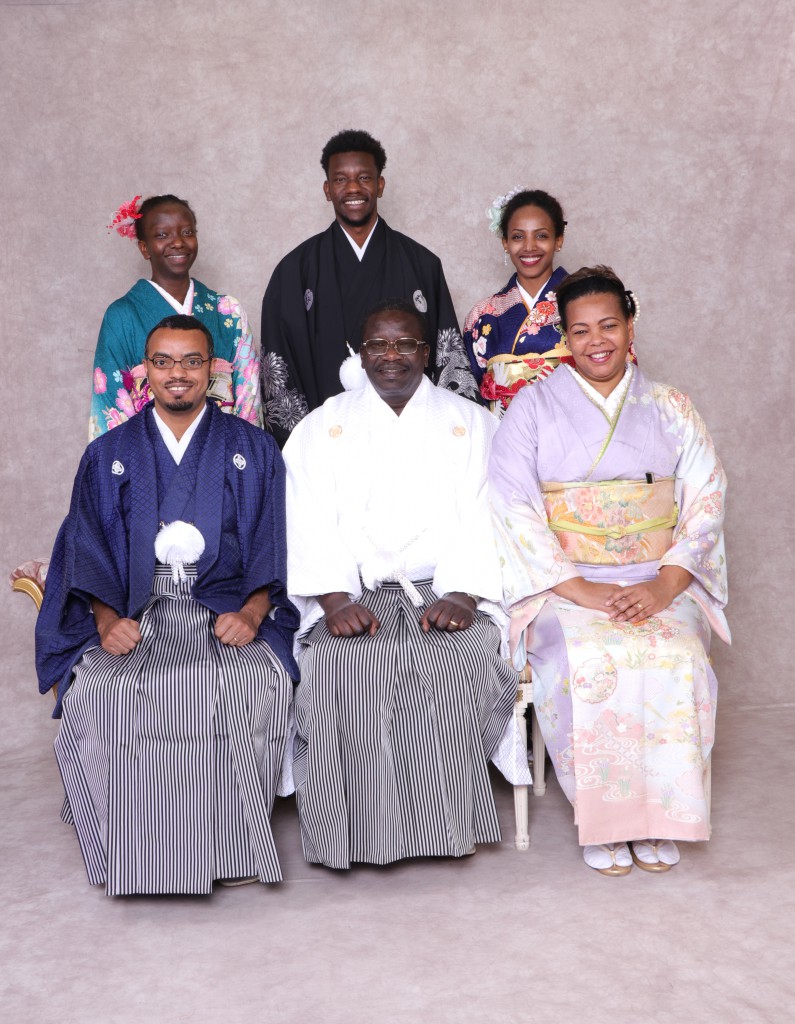 -Mr. and Mrs. ambassador(Front)
-The minister
(Left in the front row, in blue kimono)
-The daughter, the son, the secretary
(Rear, from left)
Mr. and Mrs. ambassador visited our monthly meeting in October, making a tour of our regular refurbishing work.
The detail is from here.